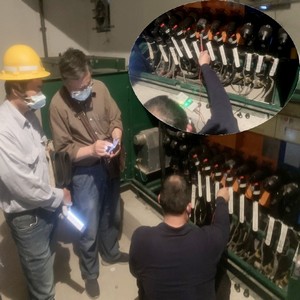 Micro Phasor Measurement Unit
Allis Communications μPMU identifies the phase of the energized distribution power devices anytime and anywhere. The μPMU measures the local phase voltage angle by using GPS synchronize with the reference station.
Power Line Fault Indicator (for Overhead & Underground Power Line)
Embedded LoRa sensor using the wireless energy harvesting technology to monitor distribution line current and generate fault flag, which are transmitted to the data collector unit and central monitoring center. The Allis Communications LoRa transceiver features low power, long-distance, and high sensitivity receiver and cellular gateway. The system allows the utility company to pinpoint the trouble spot to accelerate the service restoration. It also supports the effective management of distribution line assets.
Hardware Fittings
Allis Communications understand the importance of reliable hardware fittings for the electrical utility industry.  Failures can result in devastating property damage or even life.  Allis Communications focus on manufacturing high-quality workmanship to ensure long field life.  Our products consist of:
Cast Iron Fittings
Aluminum Fittings
Insulators
Steel Fittings
High Voltage Connectors
Our Tinned Aluminum Connectors are designed to accommodate both Aluminum and Copper electrical cables.  The Connectors feature tight tolerances to enable proper fitting with various cable sizes.